Course Status
Course Status
Forest: OPEN - Preferred Lies 3rd & 4th holes only
Manor: OPEN - Winter Rule OFF - (08:45 - 03/05/17)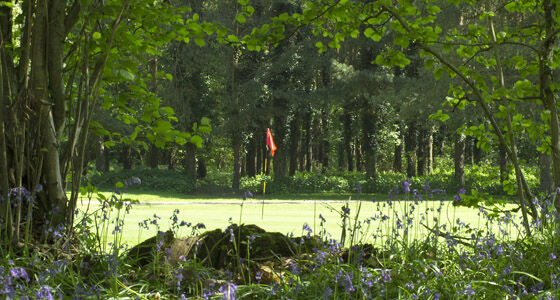 Please see our Winter Course usage policies regarding buggies, trolleys and playing in foggy conditions at the bottom of this page.
The Winter Rule (R&A Rules, Appendix 1, Rule 4c) reads: "A ball lying on a closely-mown area through the green may be lifted, without penalty, and cleaned. Before lifting the ball, the player must mark its position. Having lifted the ball, he must place it on a spot within 6 inches of and not nearer the hole than where it originally lay, that is not in a hazard and not on a putting green . A player may place his ball only once, and it is in play when it has been placed (Rule 20-4). If the ball when placed comes to rest on the spot on which it is placed and subsequently moves, there is no penalty and the ball must be played as it lies, unless the provisions of any other Rule apply. If the player fails to mark the position of the ball before lifting it or moves the ball in any other manner, such as rolling it with a club, he incurs a penalty of one stroke. Penalty For Breach Of Local Rule:- Match play - Loss of hole: Stroke play - Two strokes."
It has been EXTENDED by a Local Rule regarding embedded balls (R&A Rules, Appendix 1, Rule 4a) whilst the Winter Rule is in place. This reads " Through the green , a ball that is embedded in its own pitchmark in the ground may be lifted, without penalty, cleaned and DROPPED as near as possible to where it lay but not nearer the hole. The ball when dropped must first strike a part of the course through the green . Exceptions: 1. A player may not take relief under this Local Rule if the ball is embedded in sand in an area that is not closely mown, and 2. A player may not take relief under this Local Rule if it is clearly unreasonable for him to make a stroke because of interference by anything other than the condition covered by this Local Rule. Penalty For Breach Of Local Rule:- Match play - Loss of hole: Stroke play - Two strokes."
Course usage policies during the Winter period
Buggy & Trolley use
We want to enable as much buggy and trolley use as possible over the coming winter period.

On the Manor Course, buggies will almost certainly have to remain on the paths for the entire period, but we will only insist that trolleys also stay on the paths whilst there is still a white frost or the ground is extremely wet. In such circumstances, please remember that trolley use being restricted to paths is the alternative to TROLLEYS NOT BEING IN USE, which we would like to avoid if possible. We fully appreciate that it adds time to the round and involves more walking, and if you don't wish to do that please carry (or don't play) as if trolleys were not in use.
We will monitor how well the "trolleys on paths" policy is adhered to when in use (and would very much appreciate feedback from members about what they witnessed whilst playing). In the meantime please note that greens staff have been instructed to ask golfers who are not adhering to the policy to leave the course, and it of course applies to members and visitors alike.

On the Forest Course we will assess Trolley use on a daily basis subject to the weather conditions. With the Forest Course sitting on land that is attributed SSSI and an Area of Outstanding Natural Beauty, we are charged with protecting the land by Natural England and the Forestry Commission and hence the requirement to assess if trolleys can be used without inflicting damage to the land.

Buggy Use - Disabled Golfers
We encourage disabled golfers to use the course at all times but during very wet and or frosty weather, certain conditions may be put in place restricting areas of the course. It is also a requirement that players make themselves aware of the BUGGY POLICY, Golf Buggy Safety Acknowledgement Form and the Buggy Use Restriction that may be imposed due to Health and Safety reasons when the weather has impacted the courses.
To read the Buggy Policy - please click HERE
To view the Acknowledgement Form - please click HERE
To view a sample Buggy Use Restrictions Form - please click HERE
Foggy weather
This policy applies to golf outside Club competitions (i.e. social golf) and Men's/Mixed Competitions. The Ladies Committee has not confirmed whether they intend to adopt the same (or an amended) policy during their competitions.
Whenever the first green of either Course cannot be seen from the first tee, golfers cannot start a round of golf from any hole on that Course. A sign will be placed on the first tee by greens staff or pro-shop staff confirming that situation, the majority of which will be from first light due to overnight/early morning fog. Thereafter, golfers will be the judges about the first green becoming visible and, when it is, they may remove the sign from the tee and begin their round of golf.
In Men's & Mixed competitions, if the tee is still closed on the above basis when the first group is due to tee off, the Competition is cancelled and we will make attempts to rearrange the competition.